QUEENSBERG


JEWELRY DESIGN

Eternal Union Pendant




is Winner in Jewelry, Eyewear and Watch Design Category




COMO, ITALY, APRIL 19, 2017


Olga Yatskaer has been announced as a winner of the famed Silver A' Design Award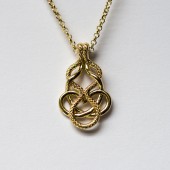 The Silver A' Design Award is a prestigious award given to top 5% percentile designs that has carried out an exemplary level of excellence in design. Entries to the A' Jewelry Design Awards are peer reviewed and anonymously judged by a grand expert jury panel of leading academics, important press members and experienced professionals. Nominated jewelry designs are voted on pre-determined evaluation criteria to highlight only the leading jewelry design works. In addition to reaching top international media, A' Jewelry Design Award winners are listed at World Design Rankings (worlddesignrankings.com), are highlighted at Design Classification platform and are showcased at DesignMag.org which lists the best designs from all countries in all disciplines
About A' Jewelry Design Awards
A' Jewelry Design Award aims to highlight the excellent qualifications of best jewelry designs and greatest jewelry design concepts worldwide. The A' Design Accolades are organized and awarded annually and internationally in multiple categories to reach a wide, design-oriented audience. The ultimate aim of the A' jewelry Design Competition is to create a global awareness for good design. Please visit the following
link to learn more.
Design Details
DESIGN NAME
:
Eternal Union
PRIMARY FUNCTION
:
Pendant
INSPIRATION
:
This shape represents the two bound together as one, or the one being an unbreakable and endless union of the two. Like the best of our feelings, combining the lovely, the beautiful and the endless. The further it materialized, the more I felt in love with it.
UNIQUE PROPERTIES / PROJECT DESCRIPTION:
This design is in fact one shape that looks like two interconnected shapes, thanks to the fine engraving. It looks simple yet full of meaning. Some would find in it a touch of ancient Celtic jewelry or even Herakles knot. You can see an eternity symbol, a 8 and maybe other symbols that make us think. And it is unique in that this particular design never existed in the history before it was conceived in February 2016.
OPERATION / FLOW / INTERACTION:
Wear it on a 18K yellow gold chain up to 2mm thick, the typical length being 42 to 45 cm or longer.
PROJECT DURATION AND LOCATION:
The first sketch was conceived in February 2016 in Wavre, Belgium. The actual piece was produced in March/April. It was first exhibited in May 2016 in Chateau de l'Ermitage in Wavre. The event has received Belgian press coverage.
PRODUCTION / REALIZATION TECHNOLOGY:
The piece is made in yellow gold 18K. The design started from a sketch on paper. Subsequently, a detailed design was created, and the actual piece was produced using a mix of professional jewelry making techniques. A combination of traditional and high-tech approaches has been applied. Various European and American tools and machinery have been used to produce it. A detailed explanation of the process is attached, however any further details can be provided to the jury.
SPECIFICATIONS / TECHNICAL PROPERTIES:
The pendant dimensions are 19mm x 31mm. The thickness is between 4 and 7mm. The opening for the chain is approximately 2.2mm in diameter.
RESEARCH ABSTRACT:
The purpose was to design a simple yet appealing and wearable jewelry piece, combining the classic and contemporary influences. The risk with a simple design is that someone else may have already created it sometime in the past. Therefore, once the shape was conceived, I made a research to make sure it does not resemble any other piece. I searched through my library of books and publications on jewelry design. I also googl'ed the images of celtic, greek and etruscae pieces. So far I concluded that this design is indeed something new and unique.
CHALLENGE:
Today, millions of designs made for the last 7000 years are available just a few mouse clicks away. It was a real challenge to create a jewelry piece that would be simple yet new. And more on the technical side, to place a very thin engraving on this miniature piece was quite of a challenge as well.